Our school vision is demonstrated in how we serve and cater to students' academic needs while nurturing their social and emotional development. To attain excellence, all staff members work hand in hand to provide students with a unique learning experience in a safe environment.
We offer rigorous, standards-based curricula that implement the latest strategies and best practices to guarantee full preparedness for high school.
In English, Arabic, and French classes, students not only learn about linguistic rules, but they also practice their language skills proficiently to become confident, fluent speakers who are adequately capable of communicating and blending in diverse international societies.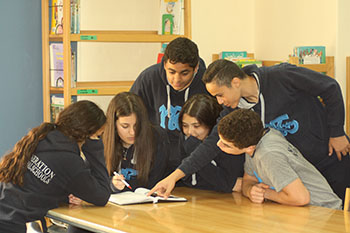 Technology, research, and presentation skills are all integrated through cross-curricular contexts to help students make the connection between what they learn and the real world around them.
Grade 8 advanced classes prepare students to join the Pre-AP program (college-level advanced course) that starts from Grade 9.
Our academic achievements in international assessments such as the MAP (Measure of Academic Progress) in English and math and DELF (Diplome d'etudes en langue Francaise-Diploma) in French reflect our commitment to serving our students the best way we can.
Art, music, and physical education classes play a vital role in shaping middle school students lives. They participate in exhibitions and tournaments inside and outside of school where they can share their talents, sharpen their skills, and enrich their experience through exposure.