Our school vision is demonstrated in how we serve and cater to students' academic needs while nurturing their social and emotional development. To attain excellence, all staff members work hand in hand to provide students with a unique learning experience in a safe environment.
We offer rigorous, standards-based curricula that implement the latest strategies and best practices to guarantee full preparedness for high school.
In English, Arabic, and French classes, students not only learn about linguistic rules, but they also practice their language skills proficiently to become confident, fluent speakers who are adequately capable of communicating and blending in diverse international societies.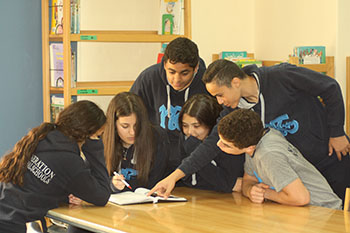 Technology, research, and presentation skills are all integrated through cross-curricular contexts to help students make the connection between what they learn and the real world around them.
Grade 8 advanced classes prepare students to join the Pre-AP program (college-level advanced course) that starts from Grade 9.
English Language Arts Advanced Classes
In Middle School, Advanced Classes are offered to academically accelerated students who are distinguished Language Arts learners. The curriculum provides students with more challenging concepts that make them eligible to join Advanced Placement (AP) classes in High School. It also endows rigorous skills and topics that are aligned with the Common Core (CCLA) as well as the Advance Placement (AP) framework. Critical reading and writing as well as research are considered to be the core content of the curriculum.
Mathematics Advanced Classes in Middle School
Advanced Mathematics in Middle School provides students with a challenging curriculum that moves at an accelerated pace. Opportunities are provided for students to master mathematical content and skills, develop the ability to make sense of problem situations, and build conceptual understanding.
The primary goals of the course are to foster independent learning, encourage in-depth exploration of the content, and build the skills necessary for High School Mathematics. Daily homework and some out-of-class projects are required.
Our academic achievements in international assessments such as the MAP (Measure of Academic Progress) in English and math and DELF (Diplome d'etudes en langue Francaise-Diploma) in French reflect our commitment to serving our students the best way we can.
STEM Education is preparing our students for jobs in the STEM fields. The wave of future economic prosperity lies in a workforce that is well-versed in rising job markets like Science, Technology, Engineering, and Math. And in each of these fields, applicants are considered more prepared and desirable if they are also creative thinkers, collaborators, and effective communicators. These are skills that are grounded in integration, which is exactly the point of both STEM education models.
Art, music, and physical education classes play a vital role in shaping middle school students lives. They participate in exhibitions and tournaments inside and outside of school where they can share their talents, sharpen their skills, and enrich their experience through exposure.